How Technology Simplifies Parent-School Communication and Enhances Student Safety
Posted on Sep 12 2022.
Parents and teachers, two of the most important and vital people in a student's life, are mostly responsible for their success. Communication is one of the main forces behind educational achievement, and communication between parents and teachers raises the bar even further. The effectiveness of student learning is significantly increased when parents and the school can interact. Together, they may design a learning environment that fosters the student's emotional and intellectual well-being.
It might be challenging for parents to take time out of their busy schedules to meet with the school administration to discuss their child's growth in today's hectic environment when both parents are working professionals. Every parent is concerned about the academic performance, classroom activities, and behavioral characteristics of their children, and they all want to be informed of these things often. The school administration may incorporate technological improvements into their system and build a platform that increases parent participation in order to foster collaboration between the schools and instructors.
Technology is helpful in a variety of scenarios. For example, parents can contact teachers about their children's absences if they are ill, have missed school, or are coping with a crisis at home. The parents can also be swiftly informed of student conduct, academic achievement, and other relevant information. Even while some teachers find it difficult to engage parents, many parents these days are asking that schools give them insightful information on their child's academic achievement. The growing number of accidents and road safety challenges also leave parents worried about their children's safety during school commute. With the aid of technology, both parents and school authorities can monitor students' daily commute, academic development and well-being at all times.
How Technology aids in ensuring the safety and well-being of students?
Student performance, as well as physical and mental health, can be improved with the help of effective communication between a school and its parent community. On the one hand, it makes certain that parents are informed of the pertinent information on the school, their child's academic as well as extracurricular performance, etc. On the other hand, instructors may learn more about the difficulties each kid is experiencing and choose the best course of action for resolving those difficulties by listening to the advice, suggestions, and criticism from parents. Let us see how technology helps in aiding the same.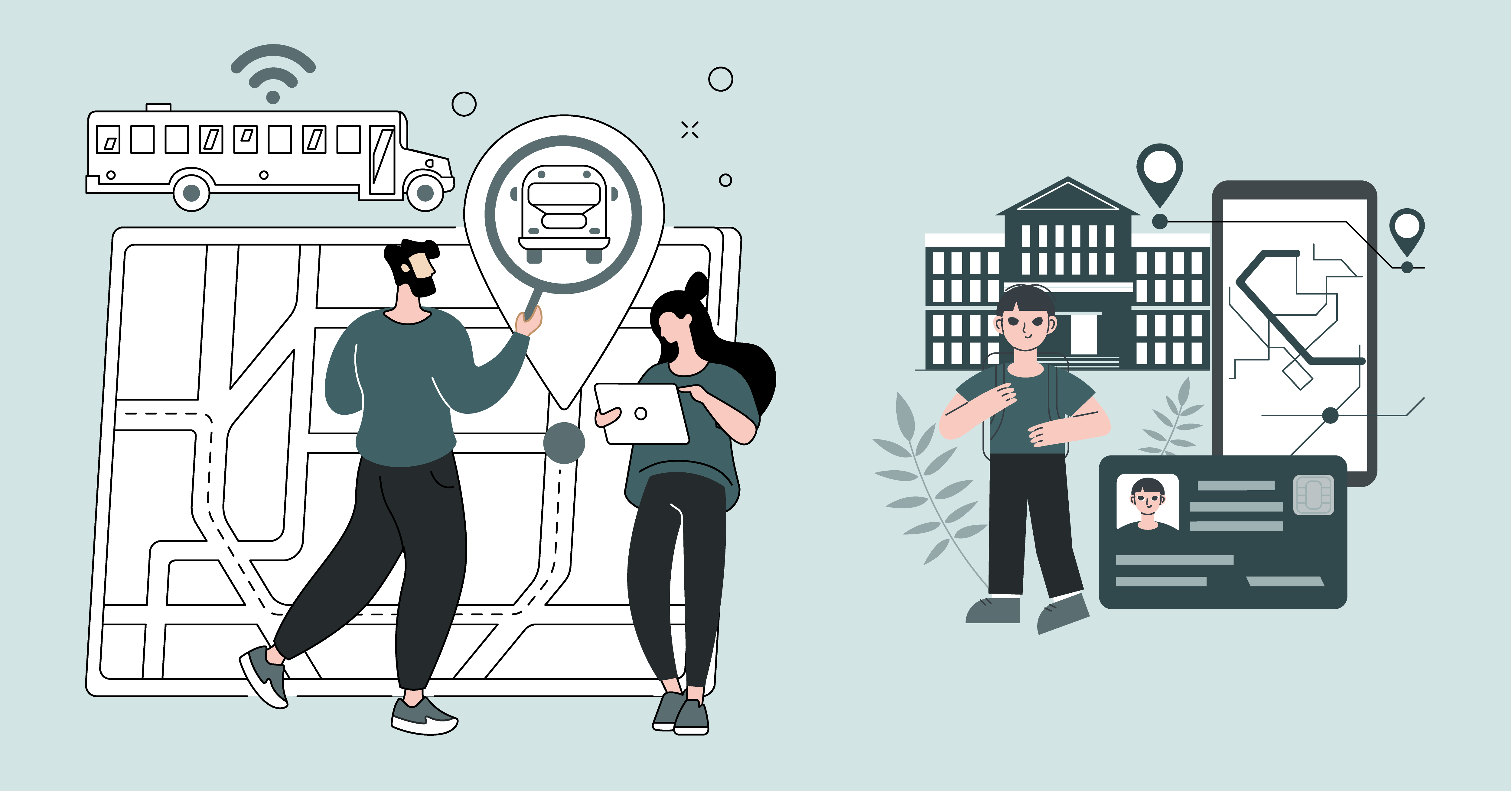 ● Tracking Student's School Transportation
School administrators can be empowered by school bus tracking software and resources to guarantee a safe and secure school bus ride for students. It can give parents and the school administration real-time access to the whereabouts of the school bus by using GPS. Additionally, the system automatically updates the mobile application with information on the ETA and the boarding/deboarding status of students, improving transparency for parents.
● Digitalizing Student's Attendance
Automated attendance systems, in line with the current craze for automated student attendance management systems, use RFID or face recognition technology to digitally register students' attendance. RFID-based attendance monitoring keeps track of students and staff's attendance quickly and accurately, while also keeping everyone in the loop and removing the possibility of data theft and mistakes brought on by traditional manual attendance systems. With an AI-based system that provides accurate and simple attendance in schools, the face recognition-based attendance system further advances automated attendance management. The laborious manual attendance methods, which required instructors to take roll calls and keep records for each class, are no longer used.
● Regular updates and check-in on Student's status & performance
In a school or educational setting, communication is chaotic. In order for school management, parents, and instructors to engage and communicate on a daily basis amid the hundreds of activities that take place there each day, there is a need for a safe platform. Through an app, Trakom's school ERP serves as a dependable line of communication between parents, mentors, and the school administration, allowing information regarding homework, critical announcements, holidays, and food nutrition to be effortlessly exchanged. The administration of school operations as a whole is aided by school ERP solutions. The program enables school administrators to manage school functions easily and without any problems. It streamlines the processes and connects numerous departments including office, finance, examination, admission cell, etc.
Conclusion
Given all of these advantages, it is reasonable to draw the conclusion that schools may increase the efficacy and efficiency of their contact with parents by embracing technology tools. All these advantages of technology are incorporated into contemporary student security & monitoring solutions like TRAKOM from Asti Infotech, which guarantees that parents are in continual communication with school officials regarding all areas of their child's growth and safety. Active parent involvement is made possible through TRAKOM, and it will not only improve children's learning results but also assist schools in thinking critically about their goals and how they are being carried out.
To know more about Trakom's multi-faceted capabilities or schedule a demo, Click here
Leave your comment