Employee Transportation Powered by Smartphones & Automation Tools
Posted on Oct 14 2022.
Over the next several years, experts anticipate that technological advancements that affect the way people live and work will dominate IT departments' priorities. According to a recent report, 5400 organizations from 16 industries across 31 countries reaffirmed the need for technology that enhances human capabilities. As a result, the digital revolution necessitates a bold response from IT firms, one that places technology at the service of people. With the mix of infrastructure, information, and people, it is the use of technology that will improve lives and address social concerns.
The introduction of mobile technology has transformed the way organizations operate. Corporate employee transportation, a complicated function with a rising staff base, round-the-clock working hours, and significant security problems that influence total employee productivity, is one vertical that has profoundly transformed the corporate world. A deep dive into smartphone data has yielded useful insights into how people and transportation vehicles move throughout the day. As a result, the transportation business has changed, and new opportunities continue to emerge.
Most companies strive to ensure that their workers have a safe and smooth journey to work. More individuals are working remotely or in a hybrid mode since the pandemic. The need for long-term shared business mobility solutions has become even more as a result. This blog will explore how smartphones and automation tools enhance employee transportation in the corporate world.
Automation in Employee Transportation
We live in the Digital Age, which is characterized by rising automation. That is our current world! Even in a world where everyone is racing to automate their lives and enterprises, there are still a number of sectors that are either overlooked, left behind, or have no viable answer. Not yet, at least. Employee Transport Automation, which uses current technology such as a GPS vehicle monitoring system, was one such sector for firms until recently. The majority of businesses still use outdated methods such as phone calls and handwritten notes. This causes a number of issues, including scale management, juggling transport for numerous locations, and varying work schedules.
Management is suddenly confronted with rising costs, stagnant revenue, lack of data, and responsibility. It urgently tries to keep employee transportation afloat with increased expenditures and efforts. As a result, costs rise and efficiency falls. It's a never-ending downward spiral. These problems can be solved with an Employee Transport Automation system with GPS tracking.
● End-to-end solutions for staff mobility are possible with this closed-loop system.
● It tackles transportation difficulties such as the demand-supply gap, safety concerns, and a lack of technology by creating a tailored environment in which all stakeholders (managers, employees, drivers, and management) may effortlessly communicate.
● These companies can achieve significant benefits by automating their workflow processes such as MIS, Accounting, Employee Attendance, Routing, Rostering, Vehicle Monitoring, and Fleet Management using modern technologies such as IoT, Cloud SaaS, AI, and modern hardware.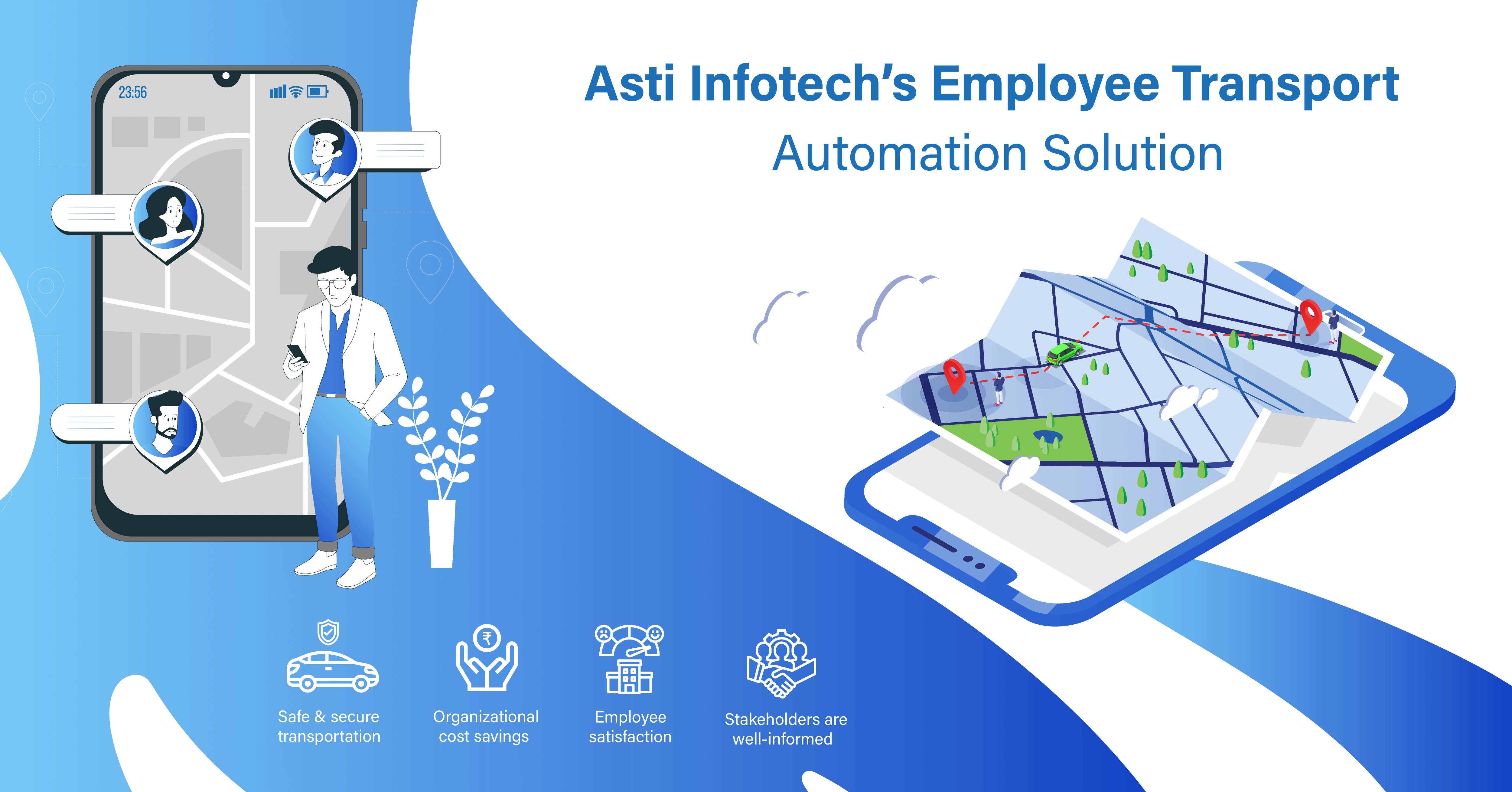 Asti Infotech's Employee Transport Automation Solution
Asti Infotech offers fuel analytics a cutting-edge employee transport monitoring system that is one of the finest transport management and tracking solutions for businesses and transportation providers. We've merged GPS technology with Asti Fleet Management (AFM), our fleet monitoring solution, to allow administrators to manage fleets in real time. Employees and drivers find it extremely reliable & useful because they can access anything from their smartphones.
A fleet management system is a multipurpose platform that allows you to manage your vehicle fleet from a single dashboard. AFM makes it easier for transport managers by leveraging cutting-edge technology to provide vehicle position tracking, , over-speeding alerts, driver behavior management, employee safety measures, roster planning, route optimization, and much more. Asti's Employee Transport Automation System offers the following benefits:
● Safe and secure transportation : An effective employee safety tool that allows employees to share their ride location, send SoS alerts, make automated safe reach calls, and escalate to authorities in the event of an emergency. AFM also has unmatched features for safety of women employees.
● Organizational cost savings :The smart roster increases fleet utilization, lowers fuel costs, consolidates several providers, and simplifies invoicing.
● Transparency :Automated data reporting, a dashboard for real-time fleet tracking, smart attendance, and automatic trip sheet preparation.
● Employee satisfaction : Is improved by reduced trip time, a mobile app to track the position of the car, a one-click cab order, and a secure commute.
● Stakeholders are well-informed : with real-time fleet status updates. Alerts and notifications are sent to the administrator at the appropriate times, allowing them to make educated decisions. It also provides you with a dashboard with a user-friendly interface.
Our employee monitoring system includes all of the latest features and functions as an easy-to-use interface, guaranteeing that employees have a smooth and safe travel experience. AFM was created to meet the needs of a wide range of employees, resulting in a pleasant working environment. Admin/transport managers may easily monitor and control all employee transit activities using web-based vehicle monitoring app. The finest tool for organizing routes and timetables with automatic roster planning, easy vehicle allocation, and effective personnel transportation is fleet management software. The AFM driver mobile application is very useful for drivers. The monitoring program allows them to keep track of journeys, employee information, itineraries, and stoppages, among other things, making their journey more convenient. The driver app's easy-to-use user design allows drivers to quickly access information.
Conclusion
Asti Fleet Management is the finest Corporate Transport Management & Tracking Solution that serves both corporations and transportation contractors. AFM is well-known in India as one of the most effective fleet tracking systems for increasing operational efficiency and lowering costs. It guarantees the employees' safety and comfort at all times.
Leave your comment