5 Advantages of Adopting GPS Tracking for School Buses
Posted on Nov 10 2022.
Right from the time their children are born, parents leave no stone unturned to ensure a healthy and safe upbringing for them. When that child gets school-ready, their hearts start pounding with fear at the thought of their child's safety. It gets very difficult for them to trust the school, staff, and especially the commute. The school may be selected as the best in grade with competent staff, but the commute is what seems worrisome. For those 2 hours, parents have to rely totally on school bus staff with no clue of their child's movement. Continually calling the staff to stay informed about their child's whereabouts is not feasible. And in case the school bus is delayed due to traffic or some untoward incident, parents have no way to know or to locate the school bus.
What then is the solution in that case to ensure peace of mind of parents and school authorities?
For a safe commute, there arises the need for a good management system, especially an automated bus tracking and security system which takes care of students while traveling and is trusted by parents and the school. TRAKOM by Asti Infotech is one of the most trusted school bus tracking and management solutions. It uses new-age technologies like GPS and RFID which allow real-time monitoring of school buses as well as accurate boarding de-boarding information of each child. It ensures all around safety of students both during school commute as well as inside school premises. It is an end-to-end solution that also offers digitized attendance management, live streaming and parent-school communication via a user-friendly app.
Trakom GPS tracking solution offers these 5 major advantages: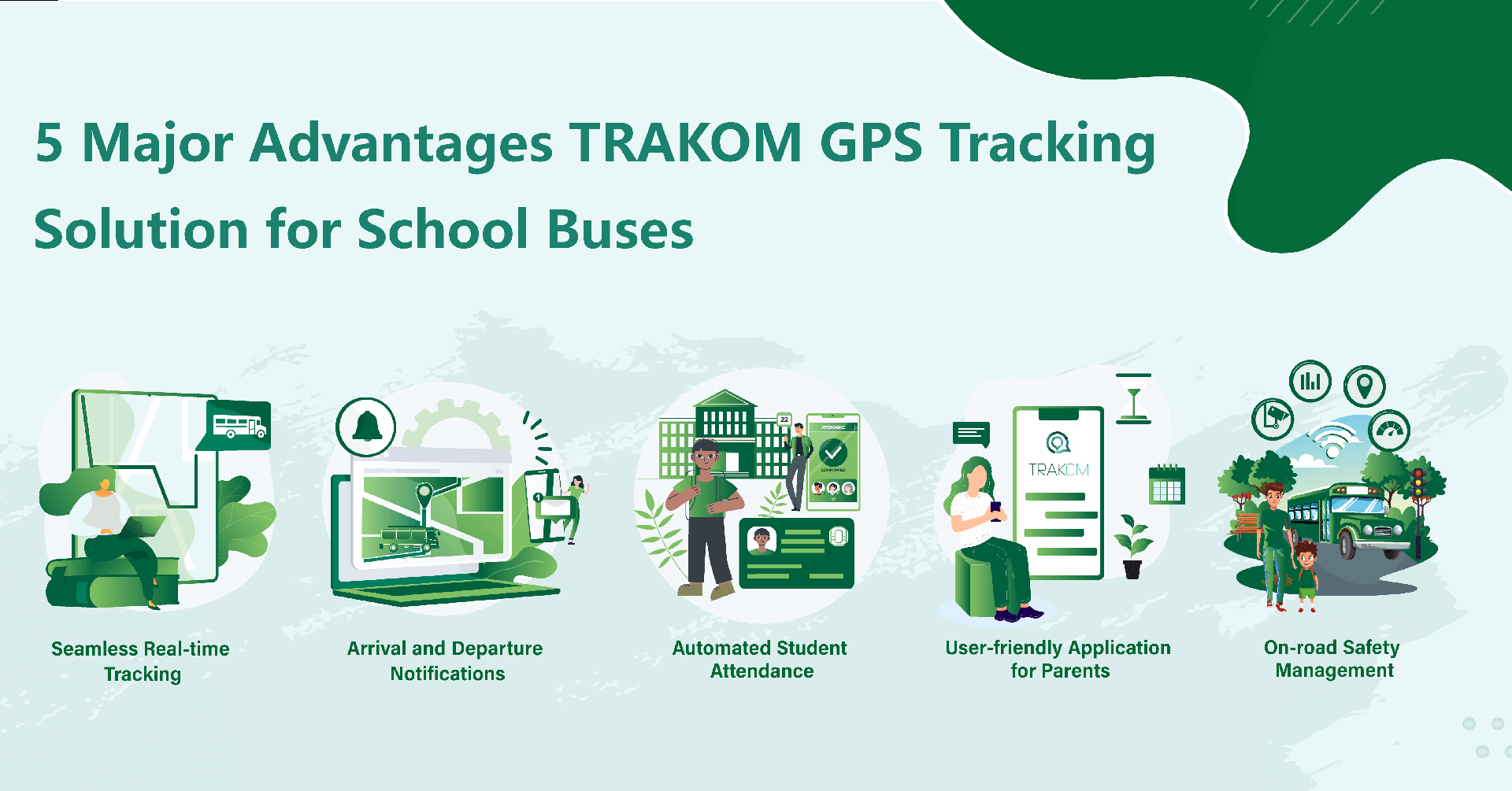 Seamless real-time tracking
GPS-enabled Trakom allows the parents and school administration staff to track the students on the go. Right from the start of the bus from school and up to the destination point of each student and vice-versa, parents can monitor them all the way. This gives enhanced student safety and lets parents stay stress-free regarding their child's safety. Unplanned stops and delays can thus be identified and parents can contact school authorities to take immediate action.
Arrival and departure notifications
Most of the time the kids along with their parents have to reach the bus stop at least 20-25 minutes before the school bus arrival time. This time could have been utilized for other activities. Similarly, at the time of the school bus return, parents are often seen waiting in extreme heat or cold, or rain. This situation can be avoided by adopting an automated school bus tracking and management solution TRAKOM. Trakom is sends timely arrival and departure notifications/updates of their kids' bus to parents. When the school bus is about to arrive at the child's designated bus stop, a message is automatically sent to the parent's phone so that they may leave the home to pick up their child.
Automated student attendance
As soon as the student boards the bus, RFID based attendance management system immediately marks the attendance. And when the bus enters school premises, parents are notified about the same. Thus they can be rest assured about their child reaching school safely. While returning from school also, attendance on the bus is marked. So, while traveling, parents can track their kids and be assured about their safety.
User-friendly application for parents
● TRAKOM provides an easy-to-use application for parents, which keeps them updated about their child's school bus commute. The bus can be traced on a map in real time. School bus arrival and departure notification can be seen on the dashboard.
● Not only does it give you real-time tracking access in the application but also has the option for live-streaming from the bus or class rooms.
● CCTVs installed inside the bus give you a glance at the activities happening inside the bus. This seamless surveillance adds another layer of security and ensures well-being of students.
On-road safety management
School generally examines and verifies all necessary documents and identity proofs that a school bus driver must hold. Even after that, you can't trust bus drivers on how they would react in certain situations. Suppose the bus meets an accident due to the driver's fault, he might flee away leaving the children on the bus vulnerable.
There also exists the possibility that a few of the students might have been hurt during the accident. Parents being completely unaware of the situation will not be able to take any action and this may lead to kids' lives being in danger. Here is how TRAKOM comes into the picture with real time location tracking feature. This way emergency help can reach on the spot as soon as possible. And also in case of a vehicle breakdown, vehicle repair service can be sent quickly without putting the kids in trouble.
Apart from the above-mentioned features, TRAKOM largely relies on its accuracy and promptness. It provides separate apps for parents, drivers, and mentors. Along with applications, it provides app operating training guidance through videos to the parents and bus drivers.
This unique collaboration of tracking, digitized attendance, and management has resulted in a foolproof school bus security solution, TRAKOM. It ensures total security and safety, leaving no room for any irregularity. More such features can be explored at www.astiinfotech/TRAKOM.
Frequently Asked Questions
1 . Is TRAKOM app easy for parents to operate?
Trakom provides a very user friendly interface. It has a neat dashboard so that all information is clearly visible. Parents can track the bus location at any point of the commute time.
2 . Is it possible to communicate with the driver during a trip?
Yes, driver can easily be contacted during the commute. Trakom is a multi-application solution which provides app for parents, drivers and school administration.
3 . Is School Bus GPS Tracking Software, Trakom integrated with the map?
Yes, TRAKOM is integrated with Google Maps. Parents and school authorities can easily view the location of bus on the map, as well as boarding/de-boarding status of students.
4. Does Trakom also have an option for live-streaming of students' activities?
Yes, it is an add-on module wherein cctv cameras are installed in the buses and/or classrooms to allow parents and school admin to keep an eye on children's activities and be assured of their safety.
Leave your comment