The No. 1 Fleet Management Solution for Lower Carbon Footprint & Happier Employees
Posted on Aug 29 2022.
The fleet management industry is facing an urgent need to address sustainability, be it for corporate fleets, cargo delivery vehicles or school transportation. Furthermore, considering that everyone is now opting to switch to electric vehicles, the race to become more environmentally friendly will only get more intense. Therefore, it makes sense that eco-conscious decision-making is now a frequent topic at fleet conferences, that eco-friendly techniques are taught during driver training, and that more businesses are planning to migrate to a green fleet in the coming ten years.
As a result, you should start making your fleet more ecologically friendly right away if you haven't already done so. Your company will become much more environmentally friendly by lowering the carbon footprint of your fleet, and doing so will also save you money on fleet expenses and guarantee that your employees can commute through clean air. This is made possible by digitization and efficient fleet management. For instance, fleet management solutions come with a variety of capabilities that enable you to reduce fuel use, track driving patterns, go paperless and keep tabs on vehicle health. So, let us see how adopting a reliable fleet management software helps in lowering your carbon footprint and ensures a happier workplace for your employees.
How does Fleet Management help in reducing your Carbon Footprint?
After you've established the sustainability objectives of your business, you'll need to devise a method for gathering pertinent information about the performance of your fleet at the moment and potential areas for improvement. Fortunately, fleet management tools are now available that are made expressly to provide you with all the data you could possibly need on how your drivers and fleet vehicles are performing on the road. Data-driven solutions provide a number of advantages that make this technology worthwhile. Key information will be gathered from onboard tracking devices by a high-quality fleet monitoring service, which then integrate this information with GPS tracking data and transmits it in real-time to a data center. This will then provide you with important information on how to enhance driver and vehicle safety, maximize the efficiency of your staff, raise the sustainability of your fleet, and more. Here are the ways in which you can ensure the minimal carbon footprint of your fleet by utilizing the capabilities of your Fleet Management System.
● Proper Vehicle Maintenance & Efficient Routing
The biggest contribution of fleet management systems has been reducing the burden on fleet managers by automated rostering and efficient route planning. This ensures optimum vehicle utilization and automatically reduces fuel consumption as well as overall distance travelled. Pollution from your vehicles is also reduced by employing a fleet management predictive maintenance system and IoT-connected equipment for monitoring. Drivers who have access to vehicle diagnostics are more knowledgeable and take better care of their vehicles. Route planning for your drivers can also boost their productivity and increase fuel economy. So, you should continually be searching for ways to cut down on the distance your fleet travels. Additionally, fleet managers may assess CO2 emissions and vehicle conditions to adjust maintenance intervals as needed.
● Driving and Fuel Consumptions Analysis
The Pollution caused by your fleet can be decreased by using eco-friendly driving practices and fuel economy calculations. Technical information on fuel consumption and CO2 emissions are collected by onboard computers, which subsequently transform it into driving advice and/or eco scores. Drivers get access to customized reports and learning resources that are tailored to their actual driving style. Fuel analytics keeps companies abreast of fuel usage and helps avoid fuel wastage, thereby ensuring a more sustainable and environment friendly fleet.
● Paperless Work
Many paper documents, such eCMRs, roadmaps, invoices, pay slips, tachograph printouts, and so on, have now been converted to digital formats thanks to fleet management systems that link the vehicle and the driver to headquarters. These digital papers don't need to be printed out anybody can access them online using a PC, smartphone, tablet, or in-cabin monitor. E-tripsheets as well automated billing further does away with wasteful use of paper for fleet management operations.
● Monitoring and maintaining the correct tyre pressure
Poor tyre pressure affects tyre lifespan by around 30% and increases fuel consumption by an average of 5%, according to a well-known tyre manufacturer. Thus, keeping the proper tyre pressure reduces not only the amount of fuel used and the amount of CO2 emitted, but also extends the life of the carcass and rubber, both of which are produced using extremely polluting processes. Tyre pressure sensors can be connected to the driver's smartphone or in-cabin monitor to provide round-the-clock monitoring and anomaly notifications.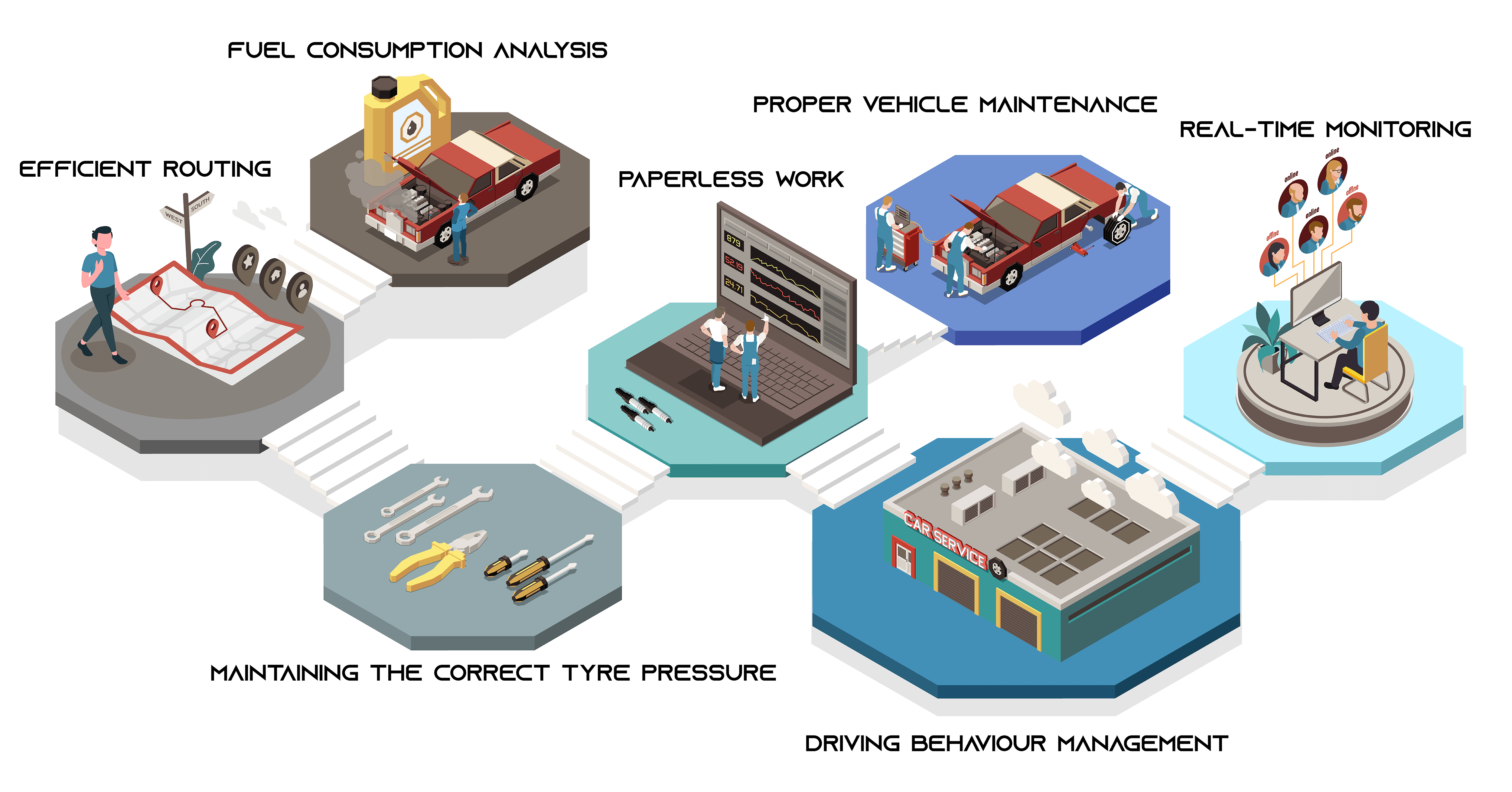 Conclusion
Finding solutions to make your fleet more environmentally friendly is now essential as climate change becomes a major problem for companies of all sizes. Fortunately, there are several actions you can do to demonstrate your commitment to sustainability and reduce your carbon impact. Any of the recommendations in this manual, if put into practice, will have a significant influence on your carbon emissions, efficiency, and even your bottom line, so start making the required adjustments right away to start enjoying the benefits.
Adopting an intelligent fleet management solution like Asti Fleet Management (AFM) could be one of the first steps in that direction. With its unmatched features that cover employee safety as well as fleet sustainability, AFM is amongst the best Corporate EmployeeTransport Management & Tracking Solutions, supporting businesses, transportation suppliers, and employees. A fleet of vehicles spread over multiple sites may be managed using a single dashboard thanks to the flexible fleet management system. AFM makes it simple for transport managers to not only streamline their operations and keep their staff happy, but also significantly reduce the organization's carbon footprint by providing features like route optimization, fuel usage & speed alerts, driver behavior management, employee safety features, roster planning, and many others that utilize the latest technologies to make sure that your business runs greener and smoother.
Get in touch with us or schedule a call right away to know more about AFM!
Leave your comment