School bus safety guidelines
Posted on Aug 23 2022.
Children's safety is paramount in the eyes of parents. More so when they commute to school in buses, amidst erratic traffic and over long distances, bullying, harassment and accidents are not incidents one can overlook while sending their child to school. Bullying and harassment are usually done by the children of same age group which still can be managed by immediate complaints and strong actions. But accidents are something which are beyond anyone's capacity. The school bus in which the students travel holds an important place in the safety points list. Matter of school bus safety is a big concern; safety has wide range of parameters which must be fulfilled before sending children in school buses.
It is also said that you cannot achieve safety just by mending a few things for the sake of it. Safety is the result of continuous willing efforts, taking conscious precautions and not leaving a single point to doubt about. Keeping the gravity of this scenario in mind, Honorable Supreme court of India has issued some guidelines in 1997 which must compulsorily be followed without fail.
Some of these guidelines are related to vehicle safety, its permits and internal facilities in bus including GPS tracking & CCTV cameras, etc. Some others are for school administration and an advisory to parents.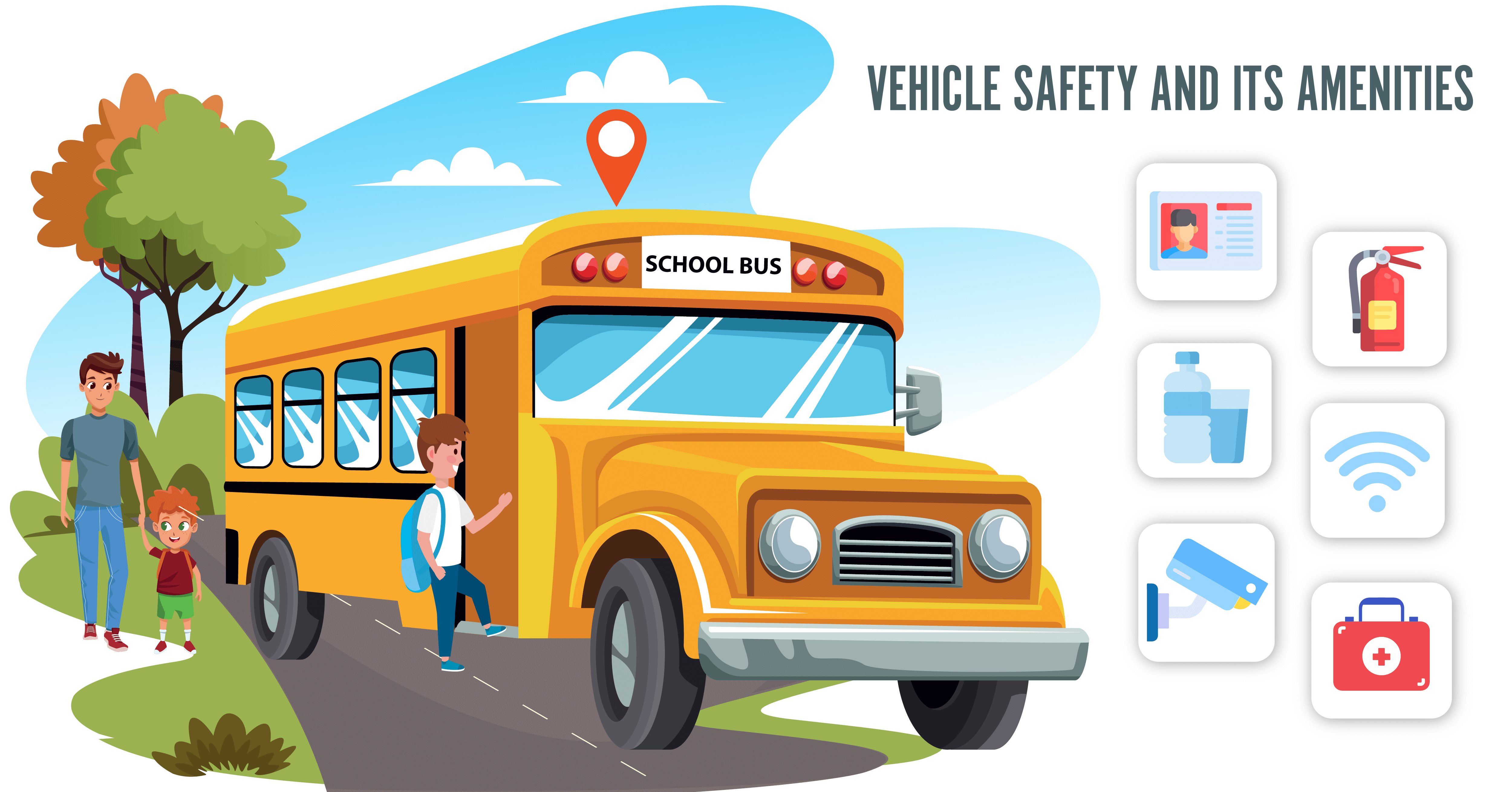 Vehicle safety and its amenities:
● School bus must be painted yellow, with name of school prominently written on both sides of bus.
● "School bus" must be written on front and back of bus.
● Details of driver including his name, license number, badge number must be written on the bus. Phone number of school bus in-charge must be clearly visible. So it can be used in case of emergency.
● School bus must be fitted with emergency exit doors both on back and front of bus. Students must be given proper training to use those doors in case of emergency.
● It should have two fire extinguishers - one on driver's side and the other on students'.
● First aid box and clean drinking water must be available at all times.
● No glass films or curtains be allowed so that the activities of students are clearly visible.
● A latest addition to the revised guidelines has suggested that GPS and CCTV cameras installation is mandatory in school buses. This will help parents and school administration to keep track of children's activities inside the bus.
Guidelines for driver and road safety
● The school bus driver should carry a valid driving license and have at least 5 years of experience.
● The speed limit should not exceed 40km/hr. In case of violation, the driver will be penalized with heavy fines. And if found repeated more than three times in a row, his license may get cancelled.
● There must be a well-trained attendant (preferably a lady) in the bus to keep check on the children.
● The school bus should have valid vehicle insurance.
● The driver should not accommodate students more than the number of passenger seats.
Arrangements guidelines for school and advisory to parents
● School authorities must ensure that the doors are well locked before the bus starts moving.
● They should provide a mobile phone in each bus so that school can easily be contacted in case of crisis.
● Through mutual consent, parents should decide who would pick up the ward daily and inform same to school also. In rare case if parents fail to pick up the child from designated stop, it is the duty of driver to drop child back to school and nowhere else even if child insists.
It is the prime duty of school authorities and parents to take every means to ensure safety of their students .Recently in Zirakpur ,Punjab , few school buses were randomly inspected and found that most of them were lacking basic amenities. First aid kits were found expired and CCTV s not working. Such irregularities may end up putting students' lives into danger. School's transport in-charge must be held up for failure like this. School administration should take serious steps against the defaulters.
Looking at such incidents, Govt. of Rajasthan has issued some fresh guidelines for school buses operating in Rajasthan which has been recently published in The Times Of India Ten lakh students travel by bus daily in their state. So it is extremely important to make their journey completely safe. Recently added guidelines say that each conductor and driver of the school bus must have police verification and District Collector Committee should monitor it. In addition to it, school buses are not allowed to carry students more than its capacity. And school name, bus driver's name and Child Helpline number must be clearly written on the bus.
Conclusion
Just like Rajasthan Govt. is taking such matters seriously, schools throughout the country should ponder over this and make all possible efforts to enhance student security. In addition to this, schools should not only fix the basic amenities but also adopt the modern school security solutions available for avoiding any mishaps altogether. One such comprehensive school security solution, which perfectly caters the need of the schools as well as parents is TRAKOM .It has been designed to ensure end-to-end safety of students from the time they are picked up for school, to the time they are safely dropped back home. Live tracking, automated attendance, complete details of boarding and de-boarding of student are some of the finest features of TRAKOM. As we don't leave any stone unturned for better upbringing of our children, we should not compromise on their safety too. TRAKOM is the choice of modern India, making our schools and buses safer and smarter than before. Countless other useful features can be explored on https://www.astiinfotech.com/Trakom.
Leave your comment